Reverse Osmosis Units - Demineralized water of high quality
Reverse osmosis units (RO) are used for production of demineralized water without the use of chemicals. Furthermore, RO units remove pyrogens and microorganisms as well as up to 90% of the organic substances.
We use a modular design throughout all our RO series which makes it very easy to adapt existing units to match an increasing need for demineralized water. The standardization approached has continuously been refined since 1987 where our first RO unit was supplied. The picture shows our RO B1 series, ranging from 0.4 to 2.4 m³/h.
The modular standard design makes the plants easy to maintain, enlarge or upgrade and keeps the total costs of ownership low.
Construction and selection of materials ensure reliable and continuous operation with low maintenance costs.
The reverse osmosis plants are frame-mounted, pre-installed and factory-tested making the installation easy, safe and quick.
Technical know-how and selected high-quality components in combination ensure the compliance of the units with the highest industrial standards.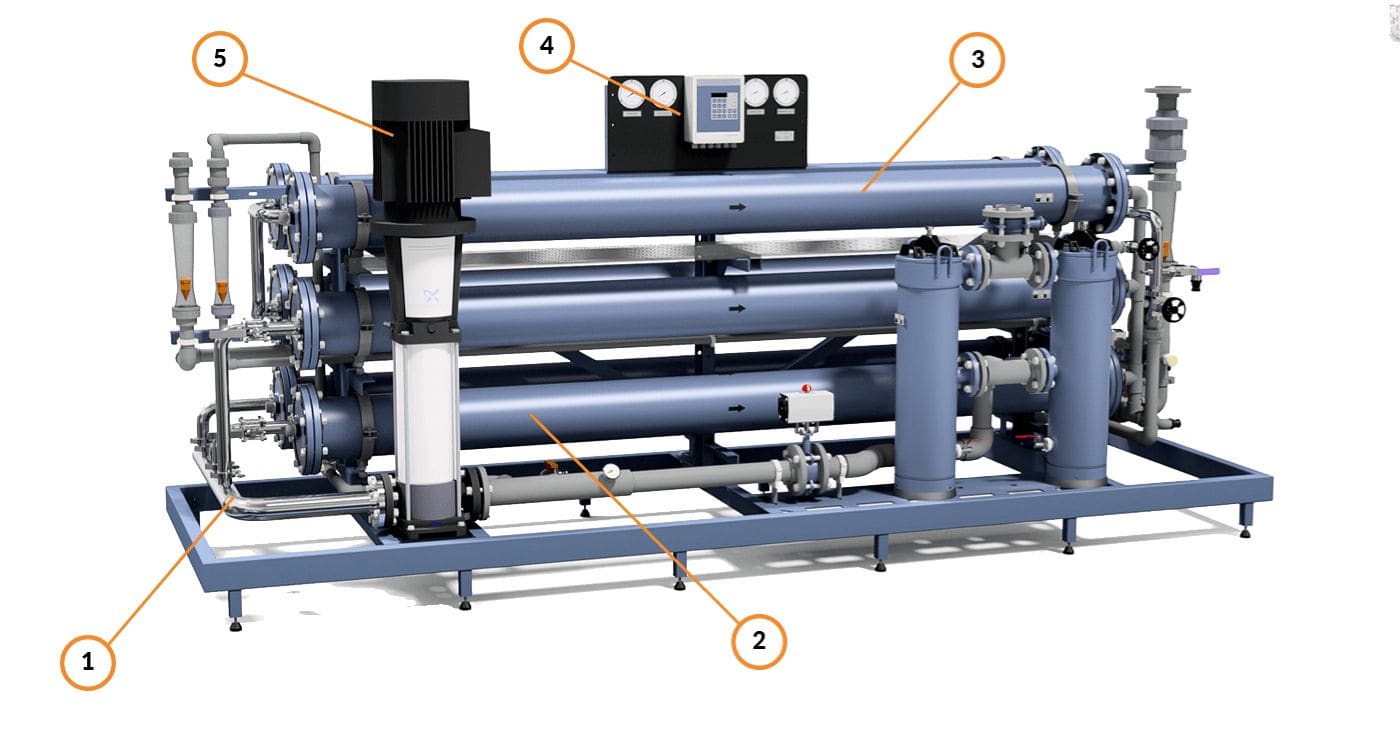 The reverse osmosis unit has a robust, welded pipe system of stainless steel suitable for high water pressure. As standard, inlet and outlet pipe systems are of PVC.
The membranes are selected to ensure our customers the best solution, both as to operating costs and water quality. EUROWATER continuously follows developments of new membrane types to optimize our product range.
3. Steel membrane vessels
The pressure vessels are either of stainless steel or steel coated with polyethylene. This makes them very indifferent to pressure changes, thus ensuring a long life and leakage protection. At the same time, the pressure vessels are extremely corrosion resistant.
Each RO unit is monitored with a SE30 PLC control. The control is purpose-made and programmed by our own engineers. The simple interface makes it easy to control and monitor unit operation including configuration of pre-rinse, quality rinse, post-rinse and limit values for water quality.
Standard RO units are equipped with energy-efficient high-pressure pumps in which all parts in contact with liquid as well as top and bottom sections are of stainless steel.
Our product range comprises a number of pre-engineered standard plants with flow rate up to 60 m3/h. All modules are manufactured at our own factory in Denmark. The standard plants come with standard documentation for easy installation, operation and maintenance.
Select between single-pass RO, double-pass RO and water saving RO.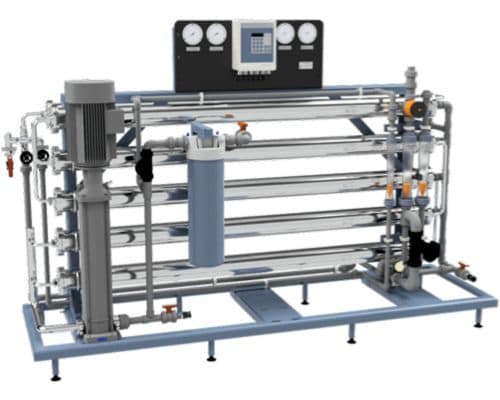 Single-pass RO
Single-pass RO in pre-engineered standard design for reliable operation at conductivity <15 µS/cm.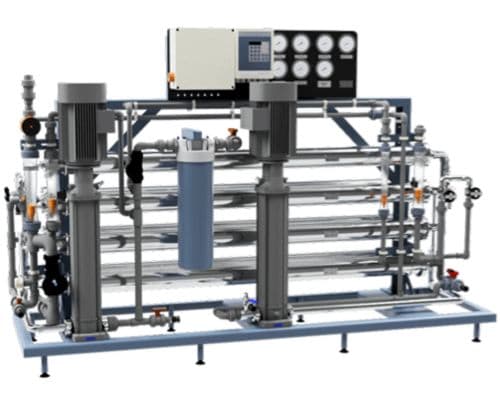 Double-pass RO
Double-pass RO provides a higher quality of the permeate with conductivity <2 µS/cm. Double-pass RO provides a double security against germs and bacteria in the water.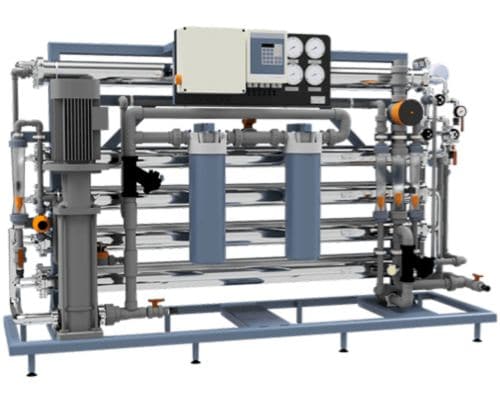 Water saving RO
RO-PLUS is designed for a water recovery rate up to 90% and at the same time reducing the energy consumption. RO-PLUS is available both as new units or as an upgrade to existing RO units.
Customized to fit your application
We offer many possibilities of custom-made solutions. Almost all parameters and components can be varied and combined.
EUROWATER has great experience in producing pipe systems of other materials than PVC such as:
PP.
PE.
PVDF.
Stainless steel.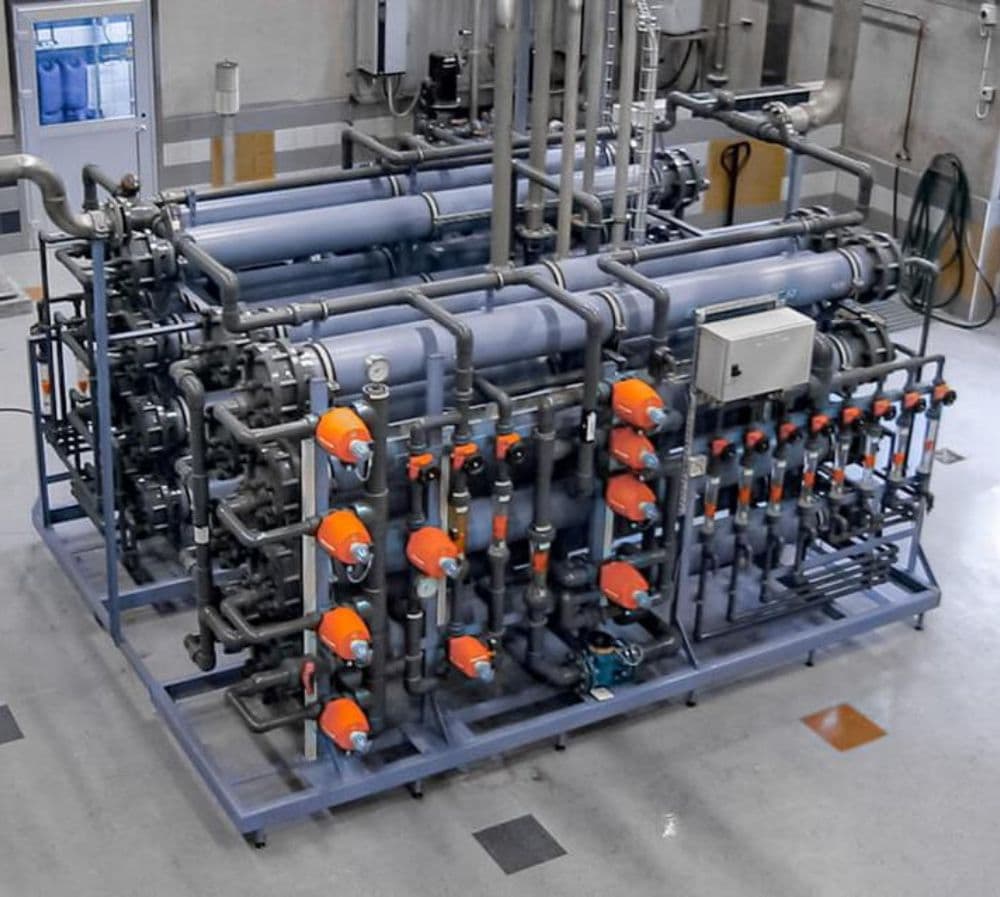 Efficient reverse osmosis membranes
We offer you a broad selection of RO membrane elements. All carefully chosen to guarantee you a membrane element of high quality suitable for EUROWATER RO units.
Our selection covers several types of membranes, for instance our EWLE-4040 that are low-energy membranes for low pressure operation or our EWHR-4040 with high retention efficiency for superior water quality.
All our RO membrane elements are in-stock items with short delivery time. Contact your local sales and service office for further information.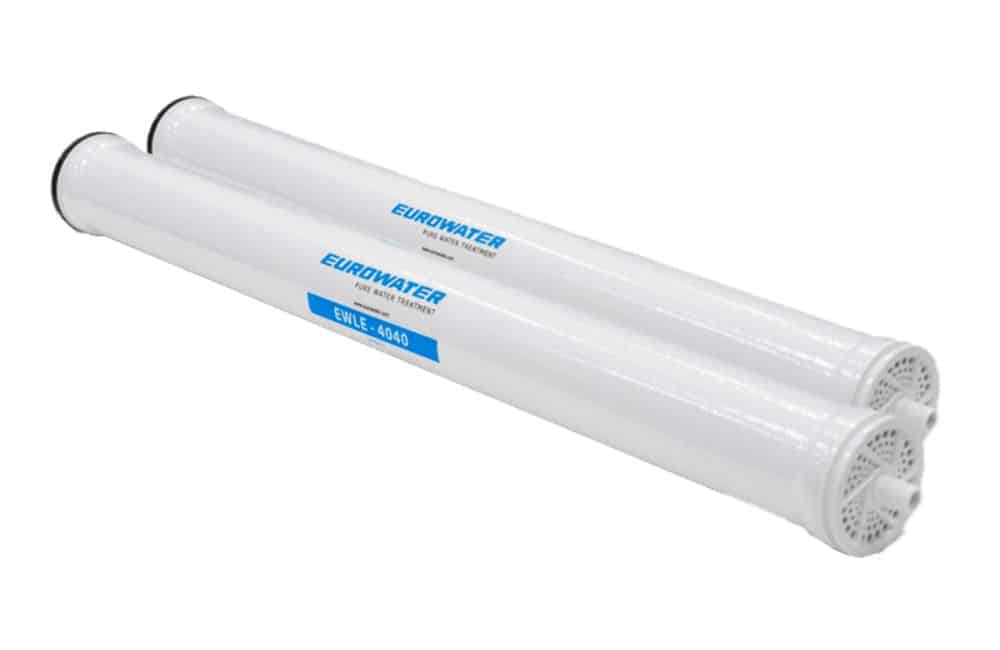 Control system designed for reverse osmosis units
The SE40 control from EUROWATER, with integrated data logging, registers and monitors the condition of your reverse osmosis unit. All data is collected in real time and made easily accessible by means of graphics and graphs.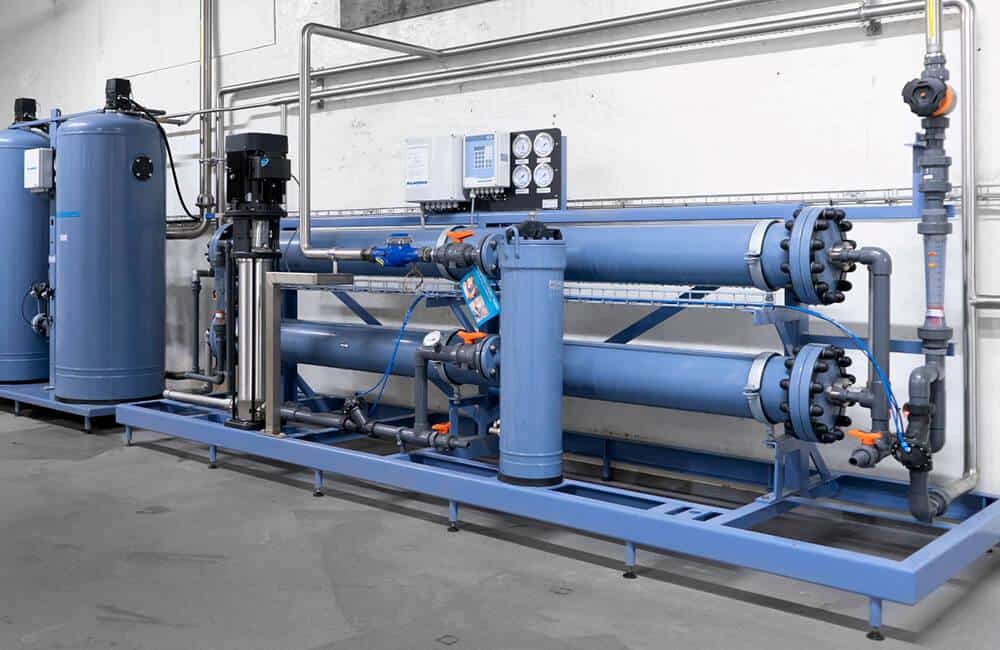 Is your water suitable for RO?
Silt Density Index (SDI) is a measurement of the fouling potential of suspended solids. SDI is used to determine if water is suitable for reverse osmosis.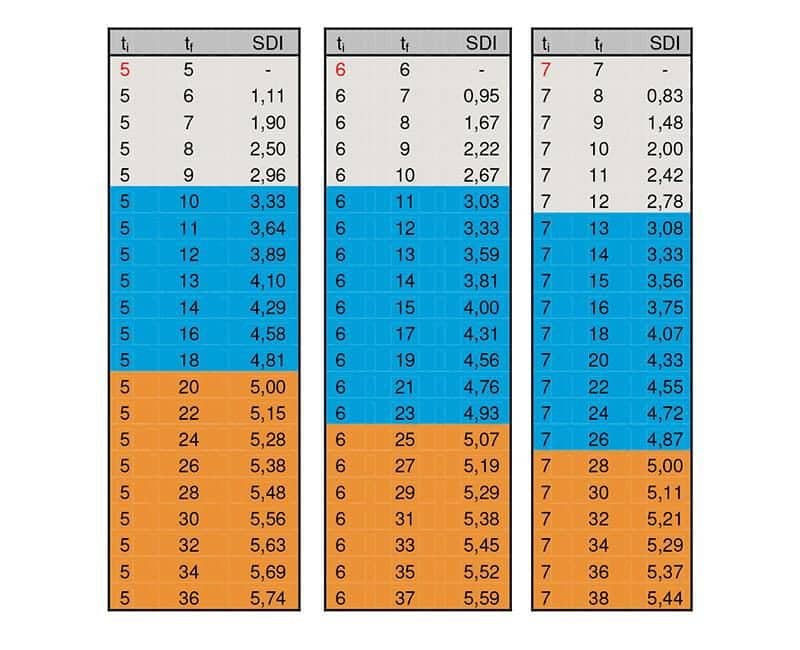 A complete, frame-mounted water treatment unit for production of demineralized water is a great solution if your water treatment consists of several treatment steps.
The photo shows a frame-mounted solution for one of the largest hospitals in Denmark. The system comprises softening, reverse osmosis and UV disinfection.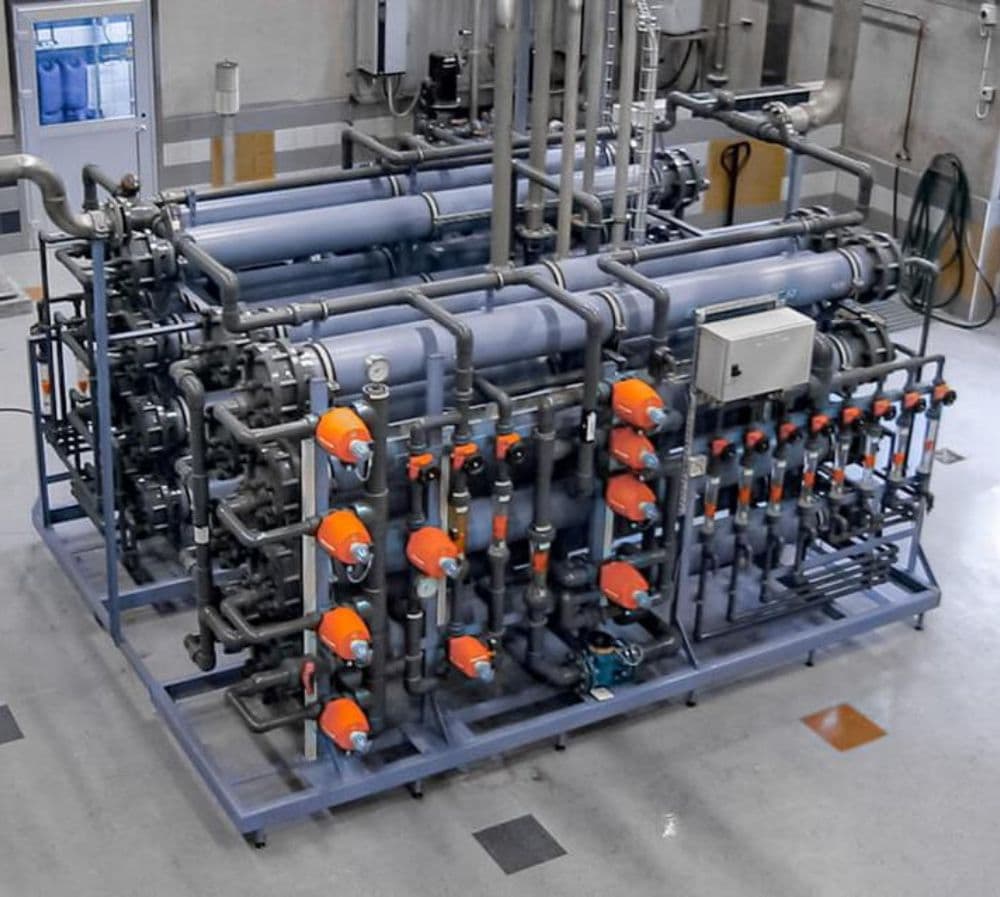 Rent a reverse osmosis plant
Do you need high-quality demineralized water for a short period of time?
Rent a mobile water treatment plant with flow rates from 2 m3/h up to 20 m3/h from EUROWATER.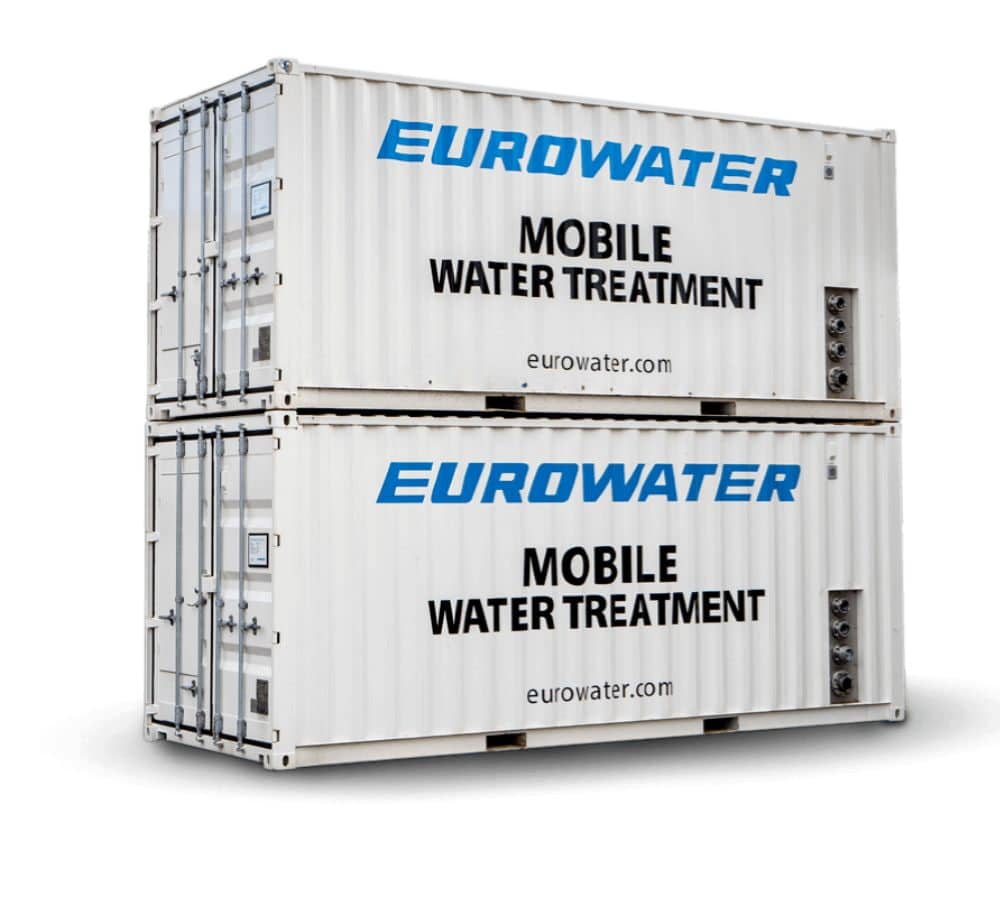 Water Treatment Technologies
Providing water treatment technologies for food and beverage industries.
If you would like to speak with a sales representative about purchasing products and services from WTT, you can reach us here.