A pressure filter is a closed tank with a single or a combination of filter media for removal of one or several contaminants. We have access to over ten different filter materials from our suppliers for removal of iron, manganese, ammonium, and aggressivity in waterworks, companies, and private households.
No matter if you need drinking water or water for commercial or industrial use, the water must be treated before it has the required quality. The complexity of the treatment clearly depends on the quality of the water supply and the final application.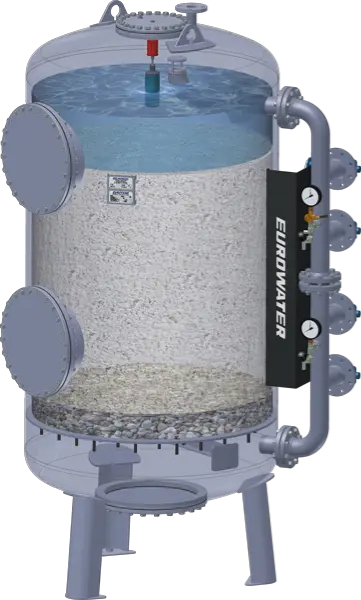 Pressure filter applications
Waterworks and companies/households with their own water boring needs drinking water quality, use filtration in pressure filters to reduce the contents of metals and salts. With individually composed layers of filter media the pressure filter plants can also be used for special fields of application.
Filtration ensures no disruption of industrial processes. The water is cleansed of impurities and safe for reuse.
Pressure filter applications also include the swimming pool. Aquatic facilities must maintain water quality. The filtration method is effective in achieving this. The water remains clear, safe, and free from bacteria.
Pressure filters
Our natural solution
Pressure filters from EUROWATER are designed to use only natural processes such as oxidation and filtration for producing drinking water. The advantages of using only air for oxidation and filtration are: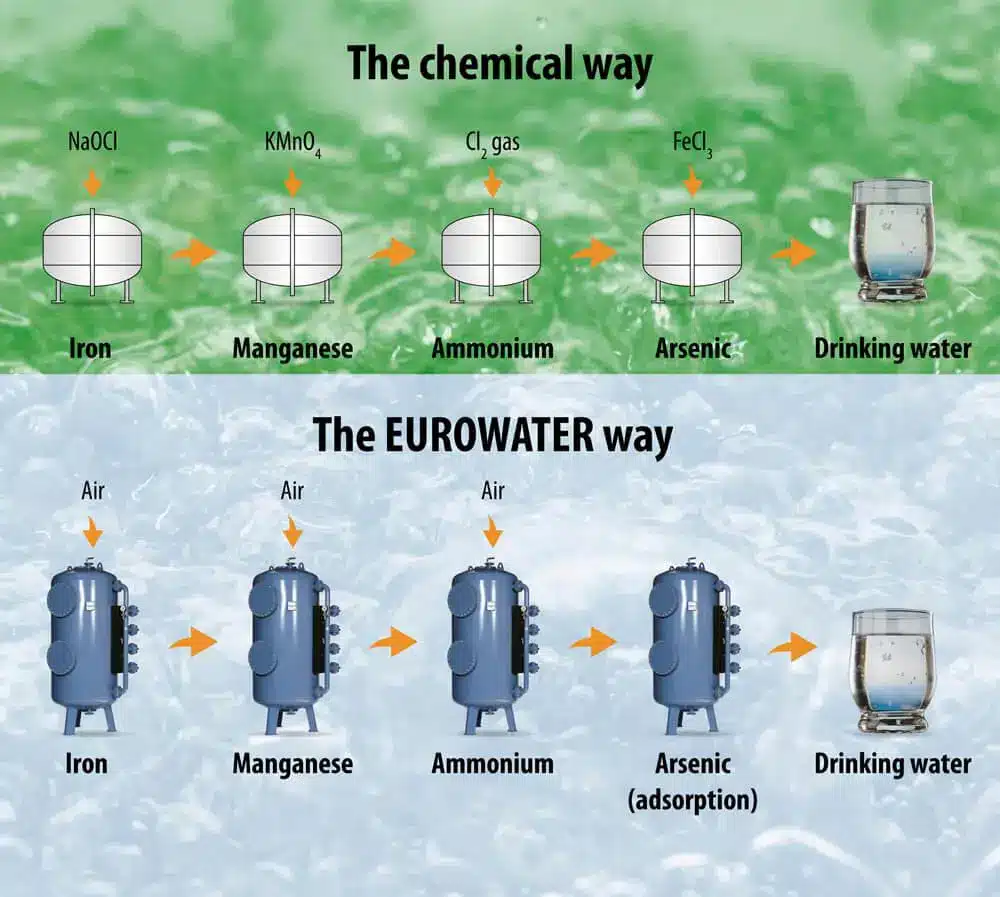 Our product range comprises a wide number of standard plants, all engineered and manufactured in-house. The starting point is our modular-built standard system ensuring high flexibility, high reliability in operation, and short delivery time. Each solution can be customized and built according to the specific application by adapting the choice of material, instrumentation, and control system – based on our combined know-how.
Plant design
The pressure filter plants are available with manual or automatic backwash. The tank is made either of steel or stainless steel. Inside, the tank is protected against corrosion according to job and likewise, the choice of filter media is based on individual considerations. The pressure filter plants are modular-built which makes it possible to vary and combine components according to your needs.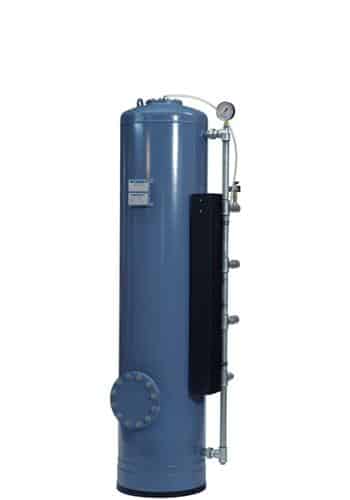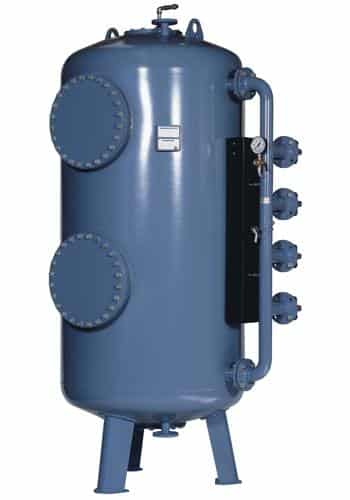 Highly durable filter with proper surface coating
The filter tanks are made of steel and therefore extremely robust and less sensitive to changes in pressure. The correlation between the steel and proper surface coating makes them highly durable and long lasting.
The composition of the water and the temperature determine the choice of surface coating. Surface coating is classified as inside and outside coating.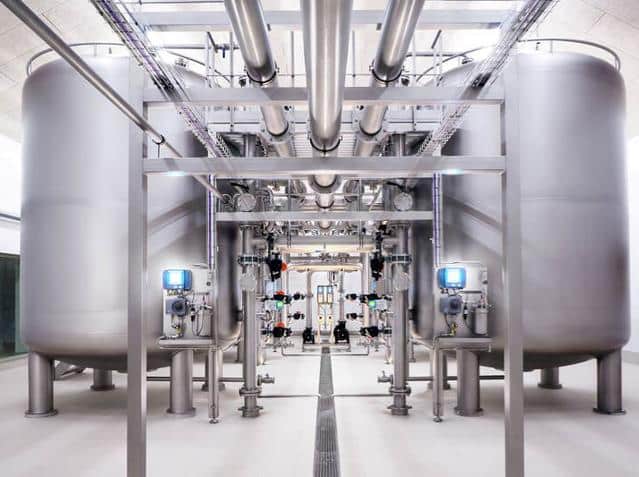 Stainless steel
Inside / outside
SAE 316L grade stainless steel.
Outside treatment: Pickling, glass blasting and passivation.
Inside treatment: Pickling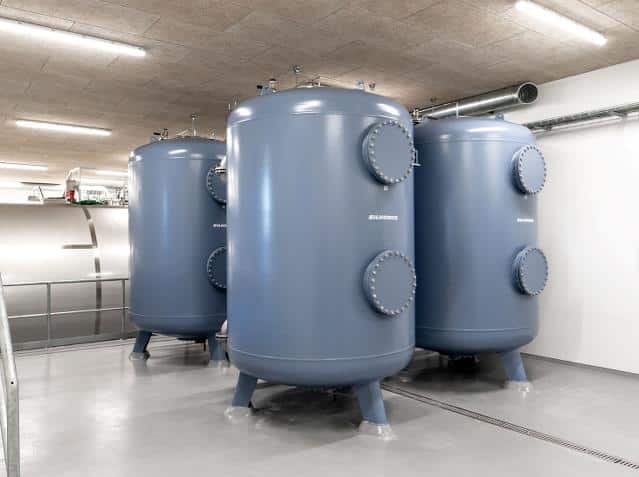 Epoxy paint
Outside
Normally, outside surface coating will be sand blasting and efficient priming followed by synthetic enamel in an optional RAL colour. Very high corrosion category (C5-I).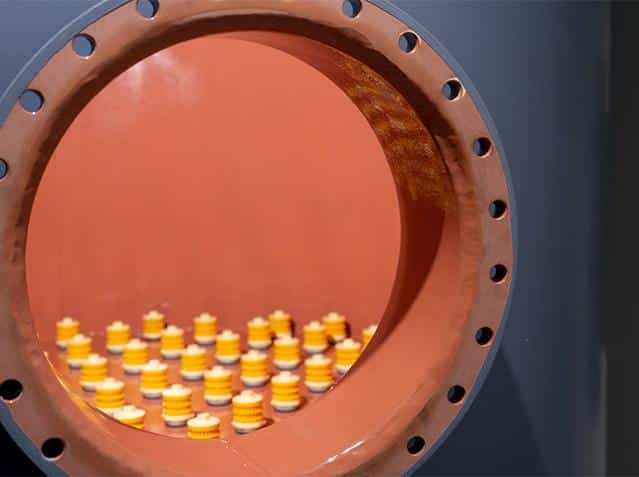 Coated
Inside
Inside, the filter tanks can either be without coating or with coatings suitable for different applications. Specific requirements for hygiene and drinking water approval can often be met.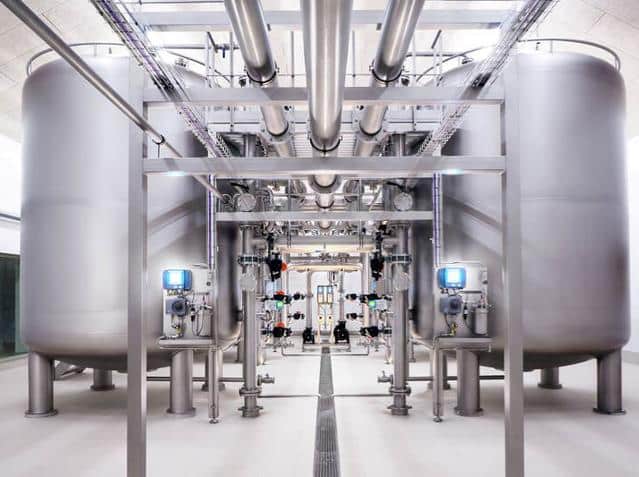 PPA
Inside / outside
Several of the filters are available with PPA coating both inside and outside. The PPA is a high-performance polyethylene-based coating with excellent resistance to UV, chemicals, and corrosion (highest corrosion category C5-M).
Nozzle plate ensures trouble-free operation
Efficient backwashing is one of the key elements for continuous and trouble-free operation. A pressure filter from EUROWATER is equipped with a specially designed nozzle plate. It ensures uniform distribution for optimum use of the filter material as well as backwash.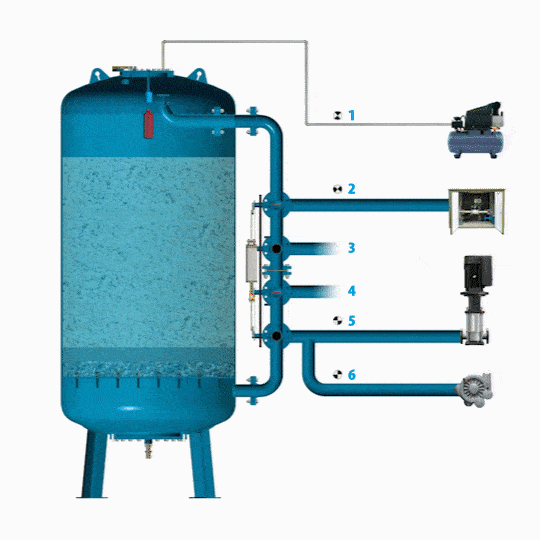 In operation
Raw water is pumped into the tank (2) and mixed with compressed air (1).
The nozzle plate in the bottom makes sure that the aerated water passes evenly through the filter material. The clean water is conducted to the consumer (4).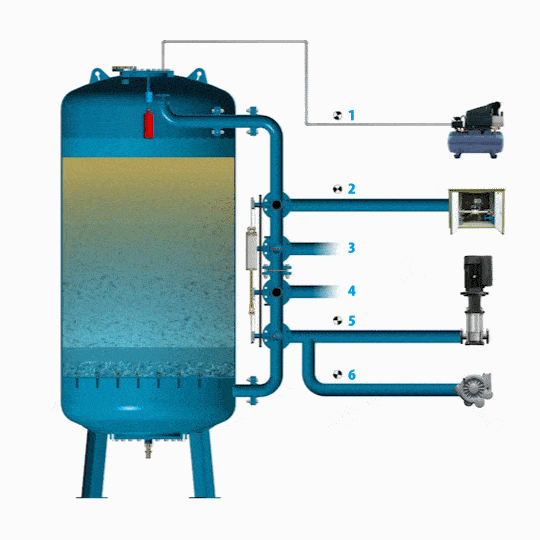 Air blowing
The inlet and outlet valves switch and air is strongly blown into the tank through the nozzles (6). The nozzles distribute the air. Turbulence loosens the particles deposited on the filter grains. The water is lead to a sedimentation tank (3).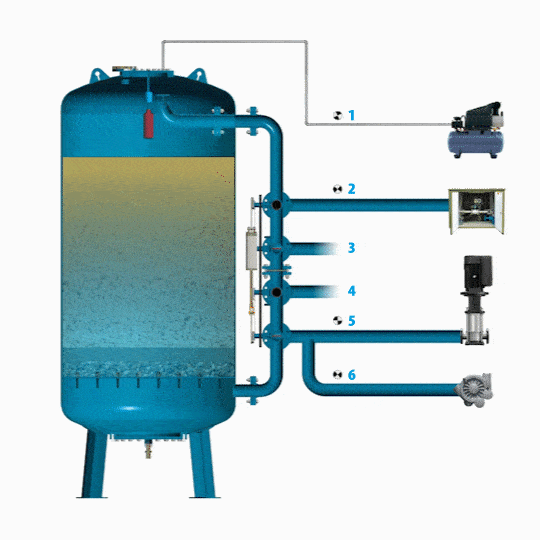 Backwash with water
Rinse water is pumped into the tank (5) from the bottom and the nozzle plate distributes the rinse water evenly. Detached deposits are transported out of the tank to a sedimentation tank (3). The inlet and outlet valves now switch back to operation.
The advantage of the Nozzle Plate
Utilization
Optimum utilization of the filter media
Quality
Good filtration quality equals high water quality
Capacity
High filtration capacity through efficient and regular air blowing and backwash of the filter media
Water saving
Long service intervals between each backwash
Long life
Increased lifespan of the filter media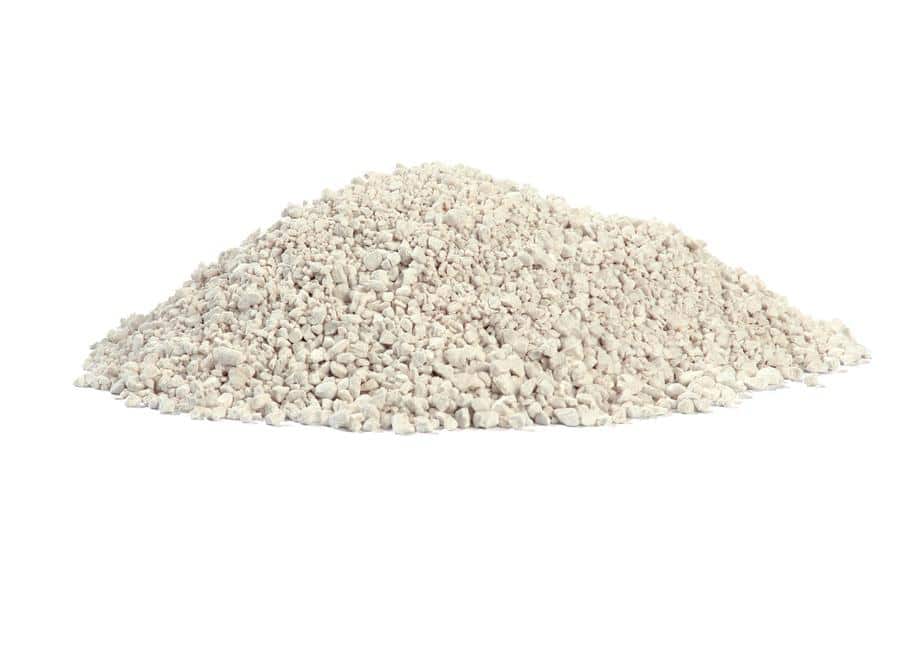 Nevtraco®
Nevtraco is primarily used for iron removal but can also be used for removal of ammonium and nitrite. The medium is based on lime and has several advantages: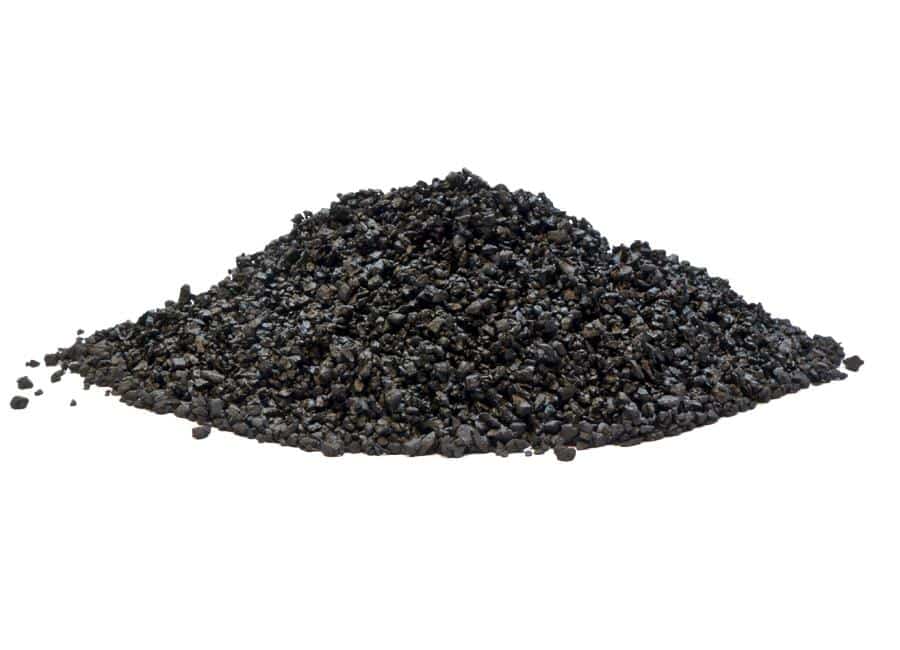 Demantex®
Demantex has proven to be a very efficient material for manganese removal – even under difficult conditions with low pH values. This natural filter medium has several advantages:
Water Treatment Technologies
Providing water treatment technologies for food and beverage industries.
If you would like to speak with a sales representative about purchasing products and services from WTT, you can reach us here.